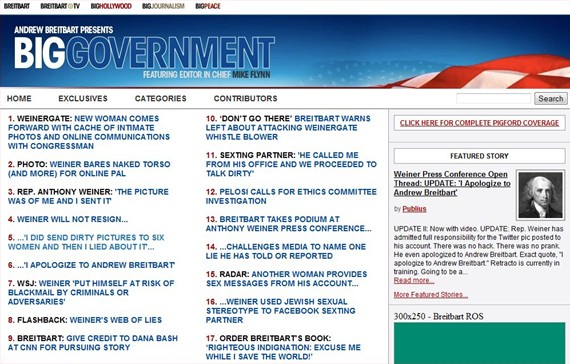 BigGovernment.com is a political website that was launched in September of 2009 (about one year after President Barack Obama was elected to office after beating senator John McCain ) by conservative journalist Andrew Breitbart know for his cowboy style of breaking stories.
While Biggoverement.com was founded solely by Andrew Breitbart, the site which boasts of keeping the Obama administration in check and making sure that the Republican party takes back the White House in 2012 also include some very famous GOP members such as former House Speaker and presidential candidate Newt Gingrich, Texas Gov. Rick Perry, South Carolina Sen. Jim DeMint and Tea Party representative and radio personality Dana Loesch who contribute to the popular website on a regular basis.
Since its creation the news portal was able to break several huge news headlines that brought shock waves to the political world and damage/stain to the Democratic party.
Biggoverement.com contributed to the downfall of Shirley Sherrod who made some racist and incendiary remarks at an NAACP event.
After being fired from her post at the United States Department of Agriculture on July 19,2010 it was revealed that the videotape where she was seen bragging about being unfair to white farmers was partially edited by Andrew Breitbart and taken out of context.
The left leaning site was also the one that contributed to ACORN's demise in 2009 (with the help of Hannah Giles and James O'Keefe ) after a video was published on the site showing that the group was involved in illegal activities such as helping prostitutes and pimps.
In Late May/early April of 2011, Biggoverement.com struck and hit another Democrat when lewd pictures of Rep. Anthony Weiner that he sent to a female supporter via Twitte were revealedr.
After denying the story for ten days, Rep. Anthony Weiner was forced to hold a press conference in New York where he confessed to being the one who did tweet the indecent photo, apologized to his wife and while this story is still folding there is a big possibility that he will be forced to resign after he goes through an ethics investigation ordered by Nancy Pelosi.
Category: Tech