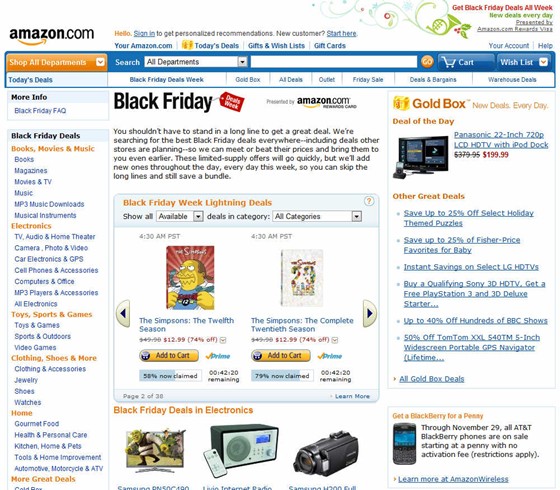 Black Friday 2011 will arrive a little earlier than the previous years.
While the official date of Black Friday 2011 is November 25th, which is the day after Thanksgiving, many companies including Amazon, Best Buy, Kohl's, Macy's and Target have decided to start the shopping celebration today, November 1st.
So let us run through the list of companies to see what kind of special deals they are offering.
Best Buy has announce via its CEO Brian Dunn that from November 1sth through December 27th all of their clients will be benefiting from the free shipping that they are offering on their website BestBuy.com no matter the amount of the purchase.
Meanwhile Amazon has launched a special website www.amazon.com/blackfriday where they have rolled out hundreds of items including TVs, magazines, mobile phones, computers, jewelry, cameras, clothes, shoes, toys that are being sold 15 to 70% off their originally listed price.
The online shopping giant is also proposing free shipping when they purchase is valued at $25 or more.
The retailer which is aware of the shopping frenzy surrounding the Holiday season (Black Friday, Cyber Monday and Christmas shopping) has added a countdown on the site where they promise even bigger and more impressive deals on thousands of products for Black Friday.
Other retailers like Kohl's, Macy's and Target are participating in what is dubbed the "Black November" sale where they have great deals through the month both online and in their stores nationwide.
On a side note: expect most stores to open their doors at midnight the day after Thanksgiving in order to avoid the major traffic rush of clients that sometimes lead to deadly accidents and to fully benefit from the busiest shopping day of the year.
Category: Holidays